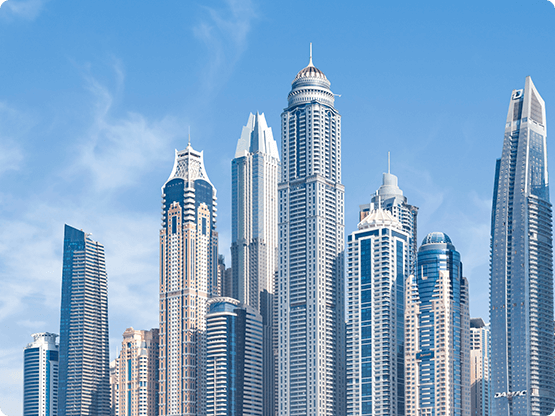 How To Register Company in Dubai, UAE?
At Make My Firm, we understand it well that starting a new venture in the new country is a tough task. It's really hard to understand the laws of the country where an entrepreneur wants to start the business.
That's why an individual must require an experienced company to register a company in Dubai, UAE. With the help of these types of service providers, an individual can complete the business setup process quickly and effortlessly.
At Make My Firm, we'll handle all the procedures on your behalf, liaising with the relevant authorities and government departments along the way to take the hassle out of UAE company set up.
Are you planning to establish your business in the UAE with all the legal requirements? We can handle it all in your budget.
Dubai company register is not an easy task. But, the experienced and qualified team of Make My Firm can make it possible without any hassle. Get a business license within 3 hours*. We exist to assist you with the complete business registration process in Dubai, UAE. You have an option of 25+ free zones or Local Company in any of the seven emirates for company registration in UAE.
If you want to start wholesaling, importing the products or want to do retail business like via supply or store/shop then we will assist you to chalk out the plan that is mandatory and can be asked for specification by concern legal authorities to register company in Dubai.
Step By Step Process for UAE Company Registration
1. Commercial License – This license is required if a company will be engaged in any kind of trading activity.
2. Industrial License – This license is mandatory if a company will be engaged in manufacturing or any industrial activity.
3. Professional License – This license is necessary for the service providers, professionals, artisans, and craftsmen.
For issuing local company licenses in Dubai, the Department of Economic Development in Dubai is responsible. This department operates from various locations to deliver licensing services. At Make My Firm, we have a vast experience of the company set up in Dubai, so we can set up your business as quickly as possible. Are you looking for Dubai company registration? Call +971 56 190 5995 for reliable services.
UAE Company Registration Services Include:
Market and their research on certain products
Number of Employment Visa and Office required space
Investment, Finance and Capital
Competitors and Suppliers
Efforts and factors for your business success
Company Registration in Dubai, UAE
The exact procedure for setting up a new business can seem complex, and maybe even confusing. But by following a simple step-by-step process with the right support, it is far more straightforward than you might think.
The procedure to set up the business in Dubai or anywhere in UAE is quite confusing. That's why you should choose the one who can provide you standard consulting services at the most cost-effective rates. Make My Firm is serving the people of the UAE for many years, and that makes us one of the most trusted business consulting companies.
Make My Firm is experienced and has already established plenty of companies of different industries in various Freezones, Mainland and Offshore. We can break the process down for you into some easy steps.
Easy Steps To Register Company in UAE
Step 1: Choose the Business Activity: As a professional business consultant, we can help you to make a professional business activity and establish your visa requirement to identify the total cost of your company setup.
Step 2: Choose the Company Name: At Make My Firm, we will make a complete check to know whether your name is clear to register or not. If it's not, we will help you with some good alternatives.
Step 3: Incorporation Paperwork Finalisation: In this step, our qualified business consultants will check your complete registration paperwork before initiating your license process with the government.
Step 4: Get the License Notification: Once the company license reaches us, we will immediately contact you and provide the original corporate documents.
Step 5: Open A Bank Account: To open the corporate bank account, all the paperwork should be at the appropriate place. You can share your requirements with us if you want to open a bank account in a local or international bank. We can also introduce you to specialist advisors in several main banks to make the process simple and quick.
Step 6: Business Immigration Card Process: If you have selected the appropriate package, we can also apply for your immigration card via the immigration authority in case you need a visa trade license.
Step 7: Visa Processing: We will guide you through the complete process if you looking for a visa.
Trusted Business Setup Consultant For Company Registration in Dubai, UAE
Since there are 2,000+ activity licenses and 28+ jurisdictions to choose, the things are complex, as it is tough to pick the option which exactly suits your requirements, but don't worry our professional consultants are going to assist you on all the complications regarding company registration in UAE or LLC company formation in Dubai till your company is registered.
A Specific Trading license will allow you to trade in the specific products. A General Trading license, which is more expensive, will allow you to trade in many products. We will provide you itemized costs for your mainland Dubai company formation, company incorporation, licensing, Bank Accounts and Visa.