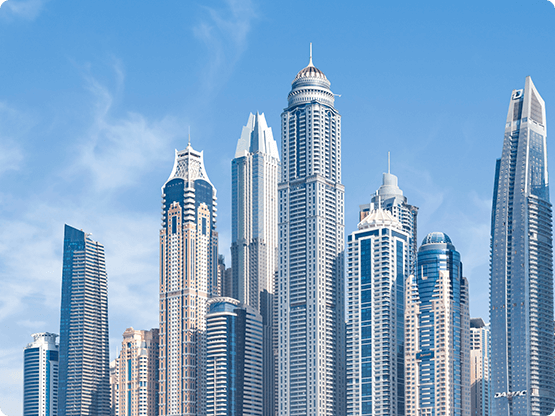 Company Registration in Dubai, UAE
Dubai company register is not an easy task. But, the experienced and qualified team of Make My Firm can make it possible without any hassle. Get a business license within 3 hours*. We exist to assist you with the complete business registration process in Dubai, UAE. You have an option of 25+ free zones or Local Company in any of the seven emirates for company registration in UAE.
If you want to start wholesaling, importing the products or want to do retail business like via supply or store/shop then we will assist you to chalk out the plan that is mandatory and can be asked for specification by concern legal authorities to register company in Dubai.
How To Do Company Registration in Dubai?
Company licenses in Dubai are divided into three types:
Commercial License – This license is required if a company will be engaged in any kind of trading activity.
Industrial License – This license is mandatory if a company will be engaged in manufacturing or any industrial activity.
Professional License – This license is necessary for the service providers, professionals, artisans, and craftsmen.
For issuing local company licenses in Dubai, the Department of Economic Development in Dubai is responsible. This department operates from various locations to deliver licensing services. At Make My Firm, we have a vast experience of the company set up in Dubai, so we can set up your business as quickly as possible. Are you looking for Dubai company registration? Call +971 56 190 5995 for reliable services.
UAE Company Registration Services Include:
Market and their research on certain products
Number of Employment Visa and Office required space
Investment, Finance and Capital
Competitors and Suppliers
Efforts and factors for your business success
The Most Reliable Consultant For Company Registration in Dubai, UAE
Since there are 2,000+ activity licenses and 28+ jurisdictions to choose, the things are complex, as it is tough to pick the option which exactly suits your requirements, but don't worry our professional consultants are going to assist you on all the complications regarding company registration in UAE or LLC company formation in Dubai till your company is registered.
A Specific Trading license will allow you to trade in the specific products. A General Trading license, which is more expensive, will allow you to trade in many products. We will provide you itemized costs for your mainland Dubai company formation, company incorporation, licensing, Bank Accounts and Visa.